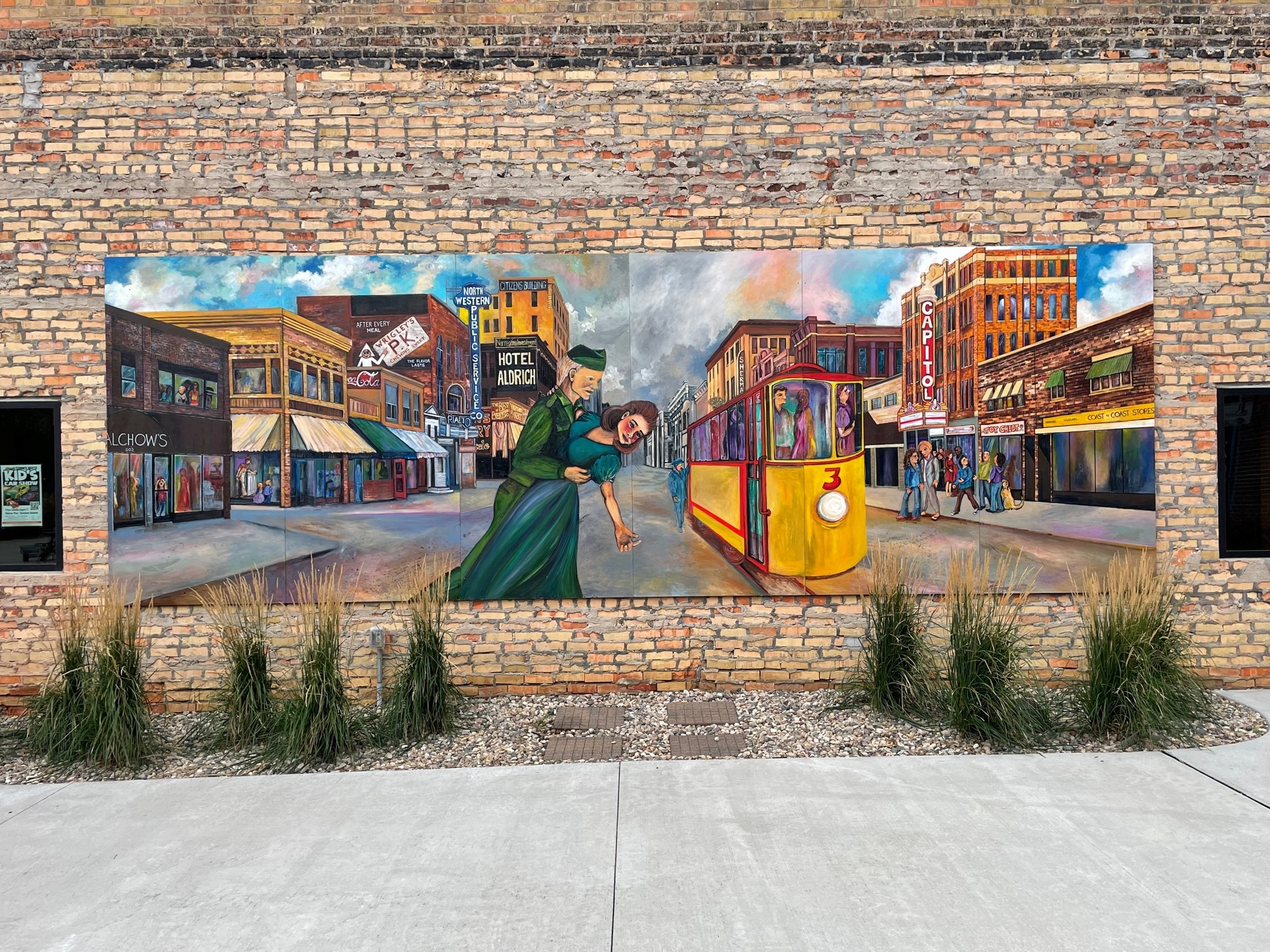 Aberdeen's Malchow Plaza recently received its second beautiful mural in as many years. "Step into Aberdeen's History," a mural by Linda Roesch from Roscoe, is a unique streetscape of downtown Aberdeen. The mural was supported by a grant from the John S.  and James L. Knight Foundation's Aberdeen Fund in the South Dakota Community Foundation. The Aberdeen Area Community Foundation acted as fiscal sponsor for the grant and worked with the Aberdeen Development Corporation and Aberdeen Area Art Council to facilitate the project.
In her proposal, Roesch said she wanted "to show a progression of Main Street of Aberdeen from past to present day, highlighting the landmark businesses and public involvement that helped to establish the city as a hub of entertainment, shopping, business and travel from its early days until now. " While the Capitol Theatre and Citizens Building are visible, so are such past features of downtown as the Rialto Theater, Sherman Hotel, and a Main Street street car.
Artist's proposals were solicited in fall 2021, and a committee evaluated them, selecting Roesch. The judging committee included:  Lois Beckner, local artist; Alexis Doerr, NSU art professor; Pat Gallagher, AACF/SDCF; Carly Pochop, local artist; Lora Schaunaman, local artist; Spencer Sommers, Co-Op Architecture; Lori Tobin, local artist; and Shelley Westra-Heier, Aberdeen Downtown Association.  The project was initiated by a committee including:  Mike Bockorny, ADC; Stacy Braun, AAAC; Pat Gallagher, AACF/SDCF; Heath Johnson, AACF; and Carly Pochop, local artist.
Roesch painted the mural on six 4' x 8' panels, which were installed on the north wall of the Aberdeen Area Convention & Visitors Bureau to the west of the mural created last year by Aberdeen artists Nick and Nicole Fischer. She said, "I worked on this mural in my apartment, and I couldn't believe my good fortune when the panels fit perfectly between my ceiling and floor.  My spare bedroom turned into the mural painting room, and the first time I was able to see each panel side by side—and on a straight plane—was the day of the installation.  Prior to that, I had the panels set up in pairs spanning three walls."
Sauvage Construction assisted with installation. The AACF and the Knight Aberdeen Fund also supported the Fischers' mural with grants.
Roesch reported, "This was not my largest mural project in terms of size, but this probably was the longest I've worked on one mural due to the level of detail and precision required." She concluded, "This was such a fun project to work on, as it allowed me to push into largely unexplored territory as an artist. A huge thank you to the folks on the selecting committee for entrusting me with this public art project, and I hope it will be enjoyed by visitors and locals for years to come!"
The AACF recommends grants for the Knight Aberdeen Fund, which Knight Foundation created through its Knight Cities program to support activities in communities where Knight Newspapers once operated.
About the Aberdeen Area Community Foundation
The Aberdeen Area Community Foundation was established in 1984 as a standalone 501(c)(3) nonprofit corporation with a goal of creating a long-term funding source for charitable causes in the local area. With careful investment, the fund will continue to grow and enhance quality of life in the local area forever. This fund is one of 80 CSAs in partnership with South Dakota Community Foundation. For more information, visit  https://aberdeencommunityfoundation.com
About the Knight Foundation Aberdeen Fund
In 2004, the John S. and James L. Knight Foundation created the Knight Aberdeen Fund with the South Dakota Community Foundation to support Aberdeen. Funded with $2 million, it has made more than 80 grants totaling over $1.1 million to more than 50 area organizations.
About the South Dakota Community Foundation
SDCF is a public non-profit organization established in 1987. SDCF, with offices in Pierre, Rapid City, Sioux Falls and Aberdeen administers over 1,100 funds benefiting hundreds of charitable organizations annually. The Foundation distributed nearly $18 million in grants in 2021 which made a tremendous difference in communities statewide. This would not have been possible without the generosity of our donors. If you have a specific cause you would like to support or would prefer to give for the general good of our state, please visit https://sdcommunityfoundation.org/giving to learn more or call 1-800-888-1842.