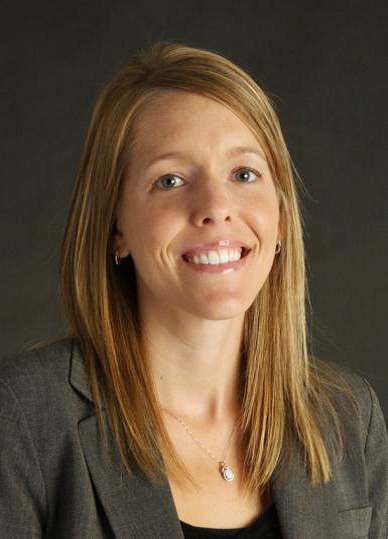 At its April meeting, the Aberdeen Area Community Foundation Board of Trustees voted to name Northern State University's Dr. Hannah Walters as a member of the board.
Walters, Assistant Professor of Marketing, has taught in the NSU School of Business since 2012. Prior to that she served as director of the Mitchell Convention & Visitors Bureau. She has a Doctor of Business Administration (D.B.A.) in Marketing from Anderson University as well as a Master of Business Administration (M.B.A.) from the University of South Dakota, and a Bachelor of Arts (B.A.) from Dakota Wesleyan University. In addition, she serves as a judge and mentor for the BIG Idea Competition.
Walters commented, "I am excited and honored to join this board to help serve the community that I live and work in. I am confident that the AACF makes a positive difference in the lives and livelihoods of virtually everyone who lives or works in the Aberdeen area through its support of economic development, human services, health, education and cultural programs."
Other AACF Trustees include: Heath Johnson, Chair; David Sandvig, Vice Chair; Robert Fouberg, Secretary; Don Kainz, Treasurer; Gleanna Fouberg, Matt Harr, and Steven Lust.
The Aberdeen Area Community Foundation was established in 1984 as a standalone 501(c)(3) nonprofit corporation but also enjoys a relationship with the South Dakota Community Foundation (SDCF) as a Community Savings Account. Their goal was to create a long-term funding source for charitable causes in the local area. With careful investment, the fund will continue to grow and enhance quality of life in the local area forever. This fund is one of 80 community savings accounts in partnership with SDCF.
About the South Dakota Community Foundation (SDCF)
SDCF is a public non-profit organization established in 1987 and has helped people reach their philanthropic goals and strengthened communities across the state ever since. Today, SDCF manages assets of over $350 million. With offices in Pierre, Rapid City, Sioux Falls and Aberdeen, SDCF administers over 980 funds benefiting hundreds of charitable organizations annually. The Foundation distributed nearly $18 million in grants in 2019 which made a tremendous difference in communities statewide. This would not have been possible without the generosity of our donors. If you have a specific cause you would like to support or would prefer to give for the general good of our state, please visit https://sdcommunityfoundation.org/for-donors/ to learn more or call 1-800-888-1842.